Ross Ade Stadium Information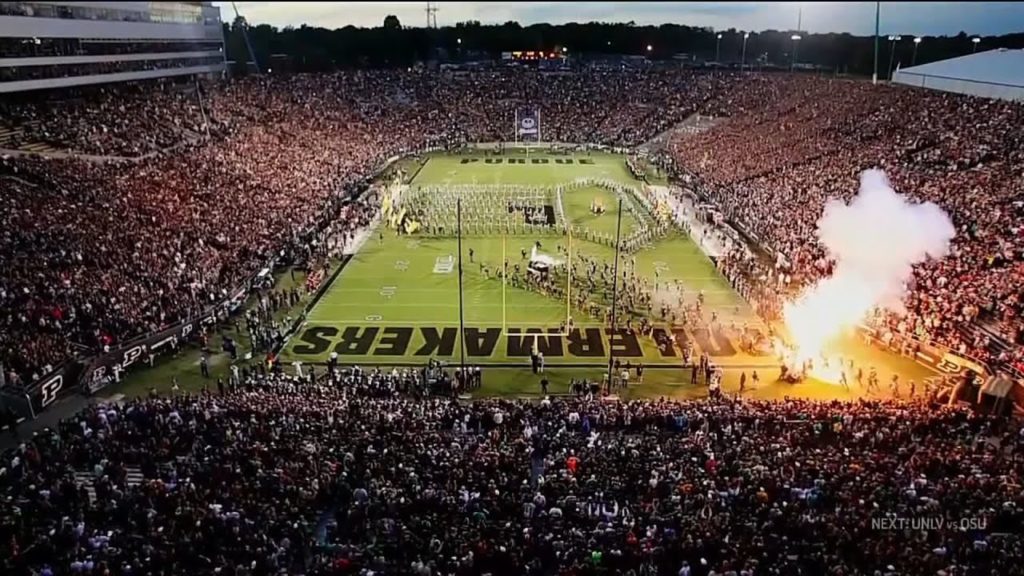 Nestled on the northern edge of the Purdue University campus in West Lafayette, Indiana, is the venerable Ross-Ade Stadium. It was dedicated on Nov. 22, 1924, in a game against intrastate rival Indiana, which the Boilermakers won 26-7. Since its opening, it has been the home field of Purdue Boilermakers football team.
The stadium is named after its two main benefactors, alumni David E. Ross, former president of the Board of Trustees, and George Ade, a playwright and humorist. It was Ross who developed the idea for the stadium and selected the site. Together, he and Ade purchased and presented the university with the 65-acre tract on which the stadium is located.
Ross-Ade Stadium features the Prescription Athletic Turf (PAT) drainage system. The system was developed by Purdue staffers William H. Daniel and Melvin Robey in the early 1970s. It was installed in the stadium in 1975 at a cost of about $125,000. The PAT system is a network of pipes connected to pumps that extract water from the grass. This help keep the field playable and virtually divot-proof, even during a storm dumping one inch of rain or more per hour.
Ross-Ade Stadium was built to replace the aging Stuart Field. The original seating capacity for Ross-Ade was 13,500, which roughly corresponds to the lower portion of the current facility's west grandstand, and standing room for an additional 5,000 people. A series of additions and renovations pushed the seating capacity to almost 68,000, excluding 2,000 more in the standing room at a point in time. The largest crowd ever to see a game in Ross-Ade is 71,629 against Indiana on Nov 22, 1980. However, in 2001, Purdue University began a $70 million renovation, including widening both aisles and seats, which led to a reduced seating capacity of 62,500.
In the spring of 2000, it was announced that Ross-Ade would undergo a three-phase renovation, beginning the following year. Within 2001-2003, the 50-year-old Woodworth Memorial Press Box was replaced with a four-storey pavilion, housing the Shively Media Center, 34 luxury suites, and a 200-seat indoor club level. Other than that, the main concourse was expanded, outdoor club seats were added with exclusive access to the pavilion's suites, and all concrete and benches were replaces. Additionally, new bathrooms and concession stands were added in the renovation process.
Although Phase II and III did not proceed as planned but, in 2009, former Athletic Director Morgan Burke indicated that the project may move forward in the near future still. Phase II was meant to be an addition of an upper deck to the east side of the stadium. While Phase III is to add an upper deck to the north end of the stadium, connecting the east upper deck and Pavilion area.
There has been a desire expressed by both former head coach Joe Tiller and Burke to remove seating in the south end zone. Their idea is to use the land for alternative purposes like building football administrative offices and locker rooms. Along with the offices and locker rooms, Burke has proposed shaping the land into a landscaped hill, providing lush views of campus scenery as well. Ultimately, these bleachers were removed in the summer of 2014, with restorative work performed on the concrete foundation on which the bleachers sat.
More renovations were done throughout the years.In June 2014, the south end-zone bleachers, which seated 6,100 spectators, were removed. This move was to avoid necessary safety upgrades and in preparation for proposed renovation projects. The removed area was converted to a patio area for fans to enjoy a more party-like atmosphere with several tables and a large concessions tent anchor the middle of the area. This change also makes the stadium the first for a regular game attendee able to purchase alcohol.
Through the 2017 season, Purdue boasts an all-time record of 282-186-13 at Ross-Ade, a .600 winning percentage. In summer 2017, Ross-Ade Stadium installed permanent stadium lights and a new sound system in 2018.
On March 27, 2019, it was announced that a memorial gate leading to student section entrance of Purdue University's football stadium will be built in honor of Superfan Tyler Trent who died on January 1st, 2019 at the age of 20 from osteosarcoma a type of bone cancer. Trent was not just a Superfan of the Boilermakers, he was also a cancer activist who turned into a social media star by showing a great and positive attitude towards life.
For more information on the Ross-Ade Stadium at Purdue University please read these additional pages:
Ross Ade Stadium Parking:
Read about parking options and rules at the Ross Ade Stadium.
Ticket Policies:
Read about our ticket guarantee and refund policies.
Ross Ade Stadium Seating Chart:
View the venue seating chart for most major events.