Ross Ade Stadium Seating Chart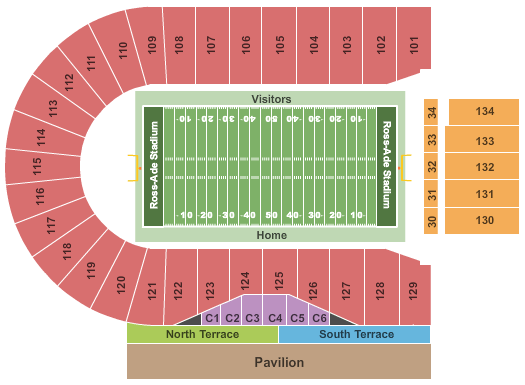 NOTE: Depending on the type of event, the seating configuration may be subject to change. Always check the individual event seating map displayed when selecting your tickets.
Sidelines
The Purdue sideline is in front of 124 and 125. Where else, visiting teams sideline is in front of 105 and 106.
Club & Premium Seating
The Shively Stadium Club is the best place to sit for an upscale experience at Ross-Ade Stadium. Ticket holders in this location get to sit in extra-wide seats with chairbacks. Ticket holders will also have access to the climate-controlled Shively Stadium Club and an all-inclusive food and drink (excluding alcohol) experience. Additionally, club ticket holders are given access to a full-service cash bar for those wishing to purchase alcoholic beverages.
With the Stadium Club located near midfield, the views of the game will also be outstanding.
Amenities mentioned are available for Purdue home games. However, some amenities may not be available or offered for other events.
Chairback Seating
Chairback seatings are only available in Club Level, Sections 1-6.
Visitor Seating
The primary Visitor Seating area is in Section 101-105.
Student Seating
Students are seated mainly in sections 107-111. There are also student seatings in the front half of sections 106 and 112.
Best Seats at Ross Ade Stadium:
Look out for seats in sections 123-136 rows 30-43 for the best view of the field. They have enough elevation to see all areas of the field and are close to the entry tunnels.
Secure your tickets today by selecting your desired seats. Visit the Ross Ade Stadium schedule to view all upcoming events.
To view our ticket & refund policy please visit the ticket information page.